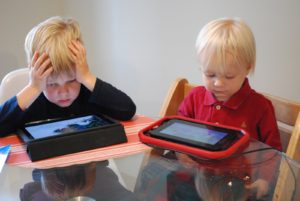 Let's be honest: recent research on the detrimental effects of screen time on sleep in kids isn't going to make any parent rip flat screens off the wall or ditch app-laden mobile devices. Similar to studies about chocolate, red wine, and caffeine, moderation always triumphs! An educational TV show, an Ipad app, a computer program in small doses and at the right time not only are fun, educational and stimulating, but also life saving. Well, that may be an exaggeration, but if you're stuck on a plane for 7 hours with 3 children under age 5—or in other tight predicaments– you know what I mean.
So, here are 3 tips that allow your family to have their screen time and sleep too!
1. Watch TV outside the bedroom. Eliminate TVs in children's bedrooms. In the study published this month by the journal Pediatrics, kids with TVs in their bedrooms lost the most sleep. After all, it is cozy to cuddle up in bed and turn on some 'toons and forget how much time passes. But parents can manage their children's TV viewing more easily if the TV is in the main living area of the house, rather than in their child's bedroom. Also, TVs in children's bedrooms are linked to childhood obesity; yet another reason to yank the plug
2. Employ the two-hour rule. Any screen, including computers, Ipads, TVs, video games, should be turned off at least two hours prior to bedtime. Because the blue light from screens mimics sun light, it disrupts the internal biological clock and inhibits melatonin production, our body's sleep inducing hormone. With this two-hour rule, the body's melatonin secretion occurs naturally.
3. Monitor the media diet. The American Academy of Pediatrics recommends no screen time for children under age 2 and only 1-2 hours for children and teens; but in any case, the content should be quality! Fortunately, there are thousands of educational apps that are also fun for kids, which makes it easier for you to turn off Sponge Bob and try Snail Bob (my kids' app du jour)! The best way to monitor screen time is to watch together: find an educational show or app you both enjoy.. In our house, the most asked for channels are Food Network and HGTV: discussing sous vide cooking methods with my six year old has even taught me a few things!
Dr. Rebecca Kempton, M.D. is a certified infant and toddler sleep consultant, physician, and mother of 3 under the age of 8, based in Chicago. Using a variety of behavioral techniques, she customizes sleep solutions based on individual family goals and children's temperaments and coaches families all over the world to a better night's sleep. She is a staff blogger for the Huffington post on topics related to infant and toddler sleep. Dr. Kempton works with clients both nationally and globally by phone, Skype, and email and with home visits. Follow me on facebook and twitter for free sleep tips and please contact me for a free initial consult.